* Scholarships have been awarded for the 2023 Oncology Massage Healing Summit
S4OM is dedicated to supporting those in the field of oncology massage. A limited number of scholarships for the 7th Oncology Massage Healing Summit are available to those who may need financial assistance.
The Scholarship Application period is closed:
Application dates: October 25-November 20, 2022
Application Deadline: November 20, 2022
Scholarships awarded: December 16, 2022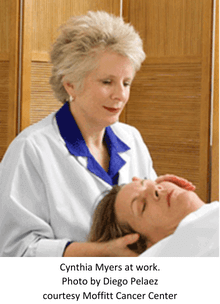 S4OM is happy to announce several full and partial Summit scholarships are available to attend the 7th Oncology Massage Healing Summit. Therapists will be able to attend this year's summit thanks to the 'Myers Memorial Scholarship Fund'.
Click here to learn more about Cynthia D. Myers and the scholarship that was established in her name.
Each of the available scholarships includes free conference registration for those attending in-person, a $375.00 value.
Please be aware:
Travel, hotel accommodations, and non-conference related food are not included in the scholarship
The scholarship is non-transferable and can only be used for the year awarded
Eligibility Criteria
To be eligible to receive a scholarship applicants must be an S4OM Preferred Practitioner.
Application Process
Please complete the online Scholarship application on or before the deadline of November 20, 2022. To complete and submit your application for consideration, please click on the APPLY button below.
Selection Criteria and Process
Scholarships are awarded based on the following criteria.
The applicant is listed as a preferred practitioner with the Society for Oncology Massage
The applicant would be unable to attend the Summit without financial assistance
The applicant focuses on or plans to focus on providing care to those living with a cancer diagnosis, this includes caregivers
The applicant has provided information about how attending the Summit will make a difference to their practice and the care of their clients
The Scholarship Review Commitee is made up of the applicant's peers, fellow preferred practitioners.
Notice of acceptance will go out by December 16, 2022.