Continuing Education & Professional Development
Information about educational opportunities like podcasts, webinars, conferences, and more.
2022 S4OM Topics of the Day – Webinar Series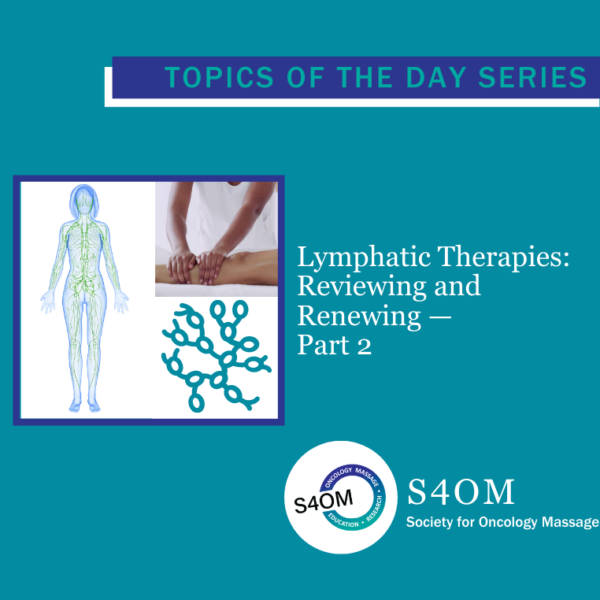 Lymphatic Therapies: Lymphedema, Lipedema, and Related Disorders
Lymphatic Therapies: Reviewing and Renewing — Part 2
Thursday, November 3, 2022 at 7:30 PM EST
Join Adie Mackenzie, Geri Ruane, and Gayle MacDonald with guest Leslyn Keith, author of The Lymphatic Code: Using a Ketogenic Lifestyle to Enjoy a Robust Lymphatic System That Promotes Overall Health and Wellness.
Topics will include the brain and lymphatics, glycocalyx, the revised Starling's equation, and lipedema. A case study will also be presented.
Click here to register
Lymphatic Therapies: Lymphedema, Lipedema, and Related Disorders
Lymphatic Therapies: Reviewing and Renewing — Part 3
TBD: December 2022
Access to Past Topics of the Day and Professional Development Webinars
In these webinars, oncology massage therapists will have the opportunity to explore, learn about, and discuss a variety of topics.  We will be joined by compassionate, experienced colleagues and guests who care about the field of oncology massage.  You'll have the opportunity to network, learn, laugh, cry, and you'll come away with the realization that you are part of a compassionate, caring, collaborative community of professionals.
CE Credits are available.  In order to receive CE credits for attending, participants must purchase the class in order to receive a link to the quiz.
Lymphatic Therapies: Reviewing and Renewing — Part 1 (1.5 CE)
The field of lymphatic therapies is blossoming with new ideas as well as finding confirmation of traditional beliefs. This webinar reviews the lymphatic system (particularly from the client's perspective) and related health issues and presents up-to-date resources. Most especially, time is devoted to conditions relevant to people who have been through cancer treatment. The topic of networking with PTs, OTs, health care providers, and other massage therapists is also addressed.
Untangling the Web Presentation (1.5 CE)
Lymphatic research continues to provide a valuable insight on the function and workings of the lymphatic system. Newly developed methods of diagnostic imaging have enabled us to clearly understand how lymph moves through the vast web of lymphatic vessels, allowing therapists trained in Manual Lymphatic Drainage to provide treatments that effectively promote the movement of lymph. During this presentation, attendees will review the components and functions of the lymphatic system, learn the importance of effective MLD techniques, how inflammation affects the mechanical workings of lymph vessels, and how MLD can greatly improve poor lymphatic function as a result of cancer treatment.
How Has COVID Impacted Oncology Care? Video Presentation – [00:24:39]
Kathleen Cavanaugh, an integrative oncology nurse practitioner, presents to S4OM Educators about the effect of COVID on cancer patients. Video and audio recordings are available. (March 2022)
Health Equity: Awareness into Action – Part 1 (1.5 CE)
This presentation was designed to help S4OM members better understand the concept, improve awareness of the factors that contribute to health equity, and to recognize areas where there are opportunities to improve health equity in the massage industry.
Health Equity: Awareness into Action – Part 2 (1.5 CE)
This presentation provides a chance to learn more about recognizing and responding to the moments we are given to improve health equity for oncology patients in different practice settings. It also includes time to brainstorm with colleagues on how to begin taking action to address these opportunities.
Our COVID Stories (No CE's available)
In 2021 S4OM introduced Topics of the Day with a panel discussion on the impacts and realities of COVID19 in a variety of oncology massage practice settings. Many participants provided feedback that it helped them feel less alone in the problems they were facing.