Becoming a Preferred Practitioner
Steps to Becoming an S4OM Preferred Practitioner
Preferred Practitioners (PPs) are oncology trained massage therapists who have:
With this foundational education in oncology massage techniques and considerations, therapists learn to adapt standard massage therapy modalities to work safely and effectively with people whose health history includes cancer.
Some massage therapists have achieved the necessary knowledge and clinical skills in oncology massage through means other than a S4OM Foundational Course. For those individuals, S4OM provides a Preferred Practitioner Alternate Pathway. These applications are considered on a case-by-case basis.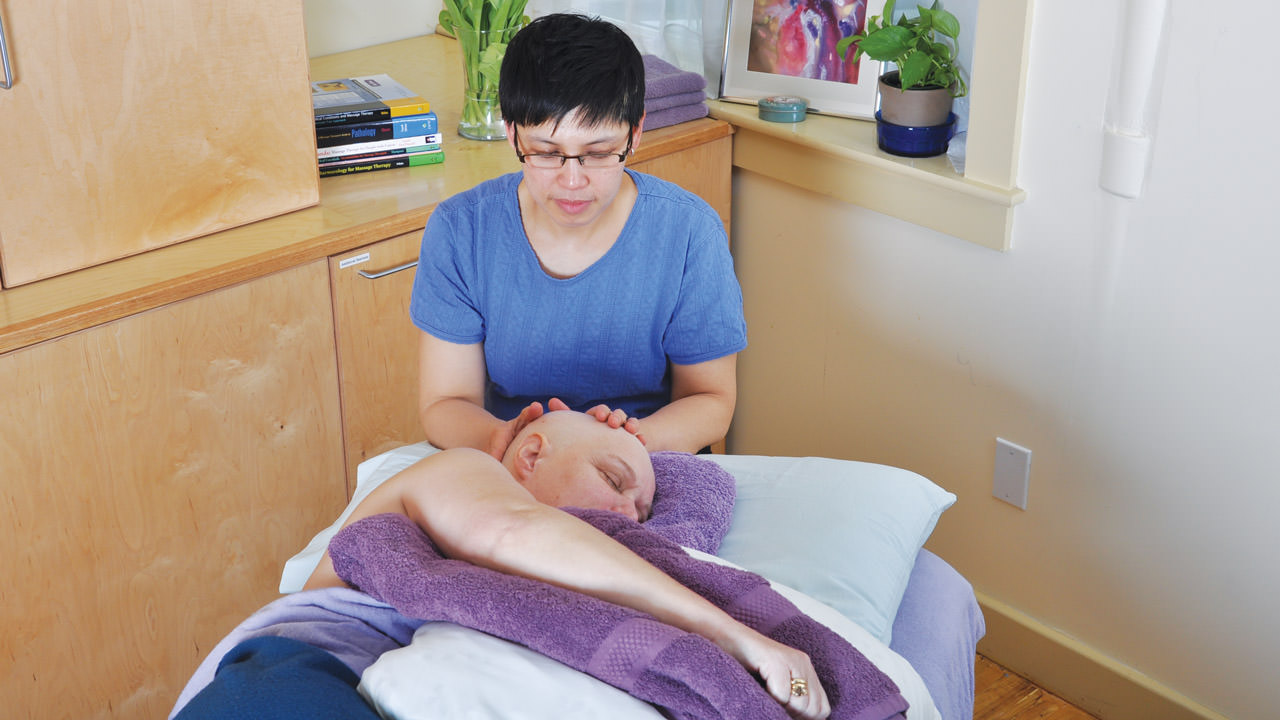 Reprinted with permission from Tracy Walton
Membership in S4OM, an international organization that adheres to standards of oncology massage education based on clinical knowledge, practical experience, and evidence-based research.
Listing in the S4OM Preferred Practitioner Directory
Access to multiple resources:

S4OM marketing materials
S4OM electronic communications to keep you current
Continuing Education opportunities
Oncology massage research and news

Reduced rates for the Oncology Massage Healing Summit and other educational offerings
Opportunities to:

Engage with other S4OM Preferred Practitioners about pertinent topics, concerns, and questions
Become involved with the S4OM Regional Champions Initiative
Volunteer for an S4OM Committee and make lifelong friendships with other professionals

Individuals diagnosed with cancer face a multitude of challenges. These challenges, which may last a lifetime, often begin at diagnosis and continue through treatment, recovery, and survivorship.

The intention of the Standards of Practice for Preferred Practitioners is to promote the safe, ethical, and appropriate application of massage therapy for those diagnosed with cancer. Preferred Practitioners demonstrate their commitment to competent and professional care by upholding these standards.

Review the complete Standards of Practice for Preferred Practitioners by clicking here.

Below are the requirements to become a S4OM Preferred Practitioner:

Successful completion of an entry-level massage therapy training program consisting of 500 hours or more. The application has details for those with less than 500 hours of training.
Current massage therapy license, registration, certification, diploma, or equivalent.
Current professional liability insurance.
Engaged in a professional massage therapy practice for at least one year (must include hands-on experience).
Successful completion of a S4OM Foundational Course. The Preferred Practitioner Alternate Pathway is an option for those who have other education and experience to submit for consideration.
Agree to the Standards of Practice for Preferred Practitioners.

If you meet the above requirements, we welcome you to apply to become a Preferred Practitioner (PP).

Please submit the application and upload all required documents. The S4OM Member Services Coordinator will communicate with you about approval and subsequent steps. This will include information about payment and establishing your S4OM login. An annual $75 payment is necessary to maintain your PP status and listing.
Ready to get started:
Ready to apply:
Applications are available online and in a fillable .pdf format. Online submission is preferred for the PP Application. Please contact [email protected] if you have issues downloading the applications.
Still have questions, please contact the Member Services for support: [email protected]