Nicola McGill, LLSA, LMT, BCTMB, CLT-LANA
Summit Educator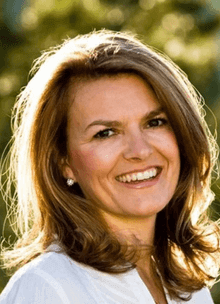 Nicola McGill, LLSA, LMT, BCTMB, CLT-LANA, has over 25 years of experience in the field of massage and bodywork both in the U.S. and the United Kingdom. She is a graduate of the London School of Aromatherapy and received diplomas in Reflex Touch and Manual Lymphatic Drainage in Professional Practice at Anglia Polytechnic University, U.K. Upon relocating to the U.S., Nicola received extensive training in the field of oncology massage under the instruction of Gayle MacDonald. In 2010, Nicola received her Lymphedema Therapy Certification through Klose Training and Consulting.
She specializes in treating patients with Breast Cancer, Head and Neck Lymphedema. In her clinical practice, Nicola utilizes her bodywork skills as an aromatherapist and MLD practitioner to treat a wide range of medical conditions. Nicola has been on staff at Boulder Community Hospital (BCH) as an Oncology Massage and Lymphedema Therapist. She promotes education and lymphedema risk-reduction practices at cancer support groups and individual treatment sessions while working alongside the Rocky Mountain Cancer Center (RMCC) and the BCH team of healthcare providers. Nicola is also a team member of the Boulder Cancer Survivorship Program at Avanti Therapy where she provides lymphedema education and restorative and comfort-oriented bodywork treatments for individuals undergoing treatments for a cancer diagnosis and those who have completed their treatment. For the past 10 years, she has been an MLD Instructor with Klose Training and Consulting in Colorado.
Courses:
Saturday, 4/22/23, 3:30 – 5:00 PM
Breakout: Disruption of Lymphatic Function following the treatment of Head and Neck Cancers
Lymphatic pathways of the head and neck are greatly compromised following treatments for head and neck cancers and as a massage therapist, it is important to have an understanding on how to safely work with these clients to promote healing and improve QOL.
This presentation will provide a basic knowledge of the anatomy and physiology of the lymphatic system, focusing specifically on the lymphatic drainage pathways of the head and neck region. Attendees will obtain an understanding on how cancer treatments can impair lymphatic function in these areas, learn of the latest oncology treatments provided to head and neck cancer patients, the therapeutic challenges that exist with lymphedema of the head and neck as a result of these treatments, and how a therapist can play a significant role in the patients recovery and quality of life, by safely applying techniques to help mitigate the side effects of cancer treatments to the head and neck.
Sunday, 4/23/23, 8:00 AM – 3:00 PM
6-hour Post Conference CE:  Head and Neck Lymphedema following the treatments for Head and Neck Cancers
This 6-hour introductory course will provide an understanding of the basic anatomy, physiology and functions of the lymphatic system. Attendees will obtain an understanding of the ongoing complications and disruption the client can experience following a head and neck cancer diagnoses, and how with gentle appropriate manual lymphatic drainage, the therapist can provide the client with some symptom relief.  Attendees will also be able to recognize the importance of working alongside certified lymphedema therapists to provide effective care for this chronic condition.