Karen Armstrong LMT, BCTMB, S4OM REP
Summit Educator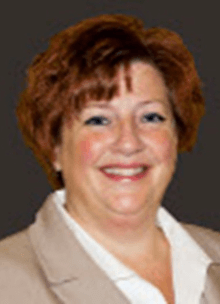 Karen Armstrong is the Manager of Integrative Medicine at Beaumont Health and since 2007, has been serving as the Manager of Clinical Massage and Program Director of Beaumont's Oncology and Hospital Massage Class in Michigan.  Ms. Armstrong oversees operations of three hospital-based Integrative Medicine clinics.  Modalities offered in these clinics include acupuncture, clinical massage, functional medicine, naturopathic medicine, yoga, reiki, integrative dietetics, and several educational programs.
Ms. Armstrong initiated numerous research projects and co-authored multiple published manuscripts.  She is a former Society for Oncology Massage (S4OM) board member, former Chairperson of Michigan's Board of Massage Therapy, a past president of the Federation of State Massage Therapy Boards and serves on many educational Advisory Boards.   Ms. Armstrong is an adjunct instructor at the Oakland University William Beaumont School of Medicine teaching both medical students and residents about integrative medicine. Ms. Armstrong promotes the benefits of integrative medicine to hospital and medical administration, faculty, the community, students, and patients. She frequently presents at community and hospital events.
Course:
Saturday, 4/22/23 1:30 – 3:00 PM
Breakout: What's happening in Hospital-based Massage Therapy?
Co-presented with Carolyn Tague
Hospital-based massage therapy (HBMT) has been around since the late 1980s, but many hospitals and patients don't know anything about it. In this presentation, we will offer a view of current trends in HBMT and practical steps for collaborating with healthcare systems to introduce or expand inpatient massage therapy services. Training, funding, and service delivery strategies will be discussed.