Keynote Speaker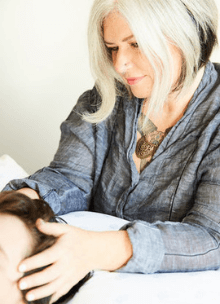 Michele Renee, DC, MAc, is a teacher, practitioner, innovator, and thought leader dedicated to transforming the way healthcare is practiced and delivered. With a special interest in equity and inclusion, Michele finds every opportunity to collaborate with other around removing barriers to care.
Michele was born in Madagascar and lived abroad for several years of her childhood, first in Madagascar and then in Bangladesh. This exposure to many cultures, religions, and belief systems sparks her passion for exploring multiple paradigms of healing and ways of knowing. The daughter of a holistic nurse, she followed in her mother's footsteps to find her career in multidisciplinary and integrative care.
After becoming a massage therapist in 1998, Michele went on to become a chiropractor in 2008 and an acupuncturist in 2016. In 2020, she went on to complete her Certificate of Leadership in Integrative Healthcare at Duke University. Michele has been in private practice for 23 years and in academia for 13 years. Currently, she has her dream job as director of integrative care at Northwestern Health Sciences University, where she creates new curriculum and trains students for the future of healthcare.
Michele lives in South Minneapolis in the Powderhorn Neighborhood with her two Great Pyrenees dogs and three young cats. She enjoys tending her garden, caring for her four-legged friends, and walking around the lakes in Minneapolis.
Courses:
Friday, 4/21/23 8:30-10:00 AM
Keynote: Integrative Care: Creating a Healthier, More Sustainable System
Through an exploration of both the way healthcare is currently provided and an integrative care paradigm, we will introduce concepts that leaders can use to co-create systems that move toward greater health creation.