Registration is now open!
Our co-host, Northwestern Health Sciences University, manages the registration process. The link below will take you to their website.
Please note, Early-Bird pricing for the Summit and Post-Conference Sessions ends 3/1/2023.
Navigating Registration:
Notes: 
*The Northwestern Summit registration site works best when using Chrome as your browser. 
*Consider creating your profile prior to starting the registration process. If you do not you will be cued to do so when you get to the shopping cart. At that point you will need to 'Add an Attendee' and will need to complete your profile before moving on. Watch Registration Video Tutorial below for additional help.
*If you have challenges with the online registration process, you may register using the paper brochure Northwestern will be sending out or you may call Northwestern directly at (952) 887-1390 between 8:00am-4:30pm Central Time, Mon-Fri and register by phone with your credit card. 
Registration Video Tutorial
Process:
1.a. The registration form is part of the NWHSU Summit landing page, it begins halfway down the page and is titled Session Detail L2304.OHMS 23.1 (see below)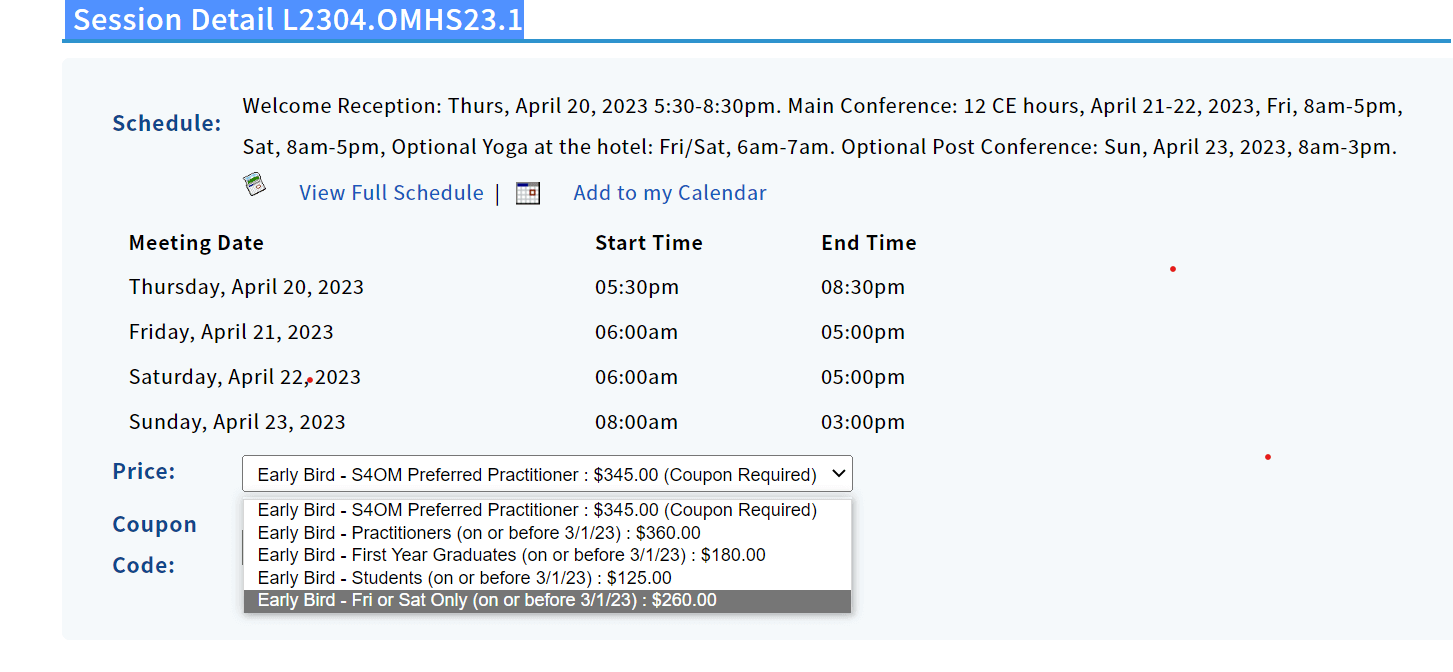 This is where you select your price point. The drop-down menu under Price provides you with the pricing for various groups. (Ex. Early Bird-Practitioners is for those who are not members of S4OM).
* S4OM members please note, when you select Early Bird-S4OM Preferred Practitioner you will be asked to provide a coupon code. This code has been sent to you via email in the 9/23/22 e-communication. If you cannot find it, please reach out to our S4OM Member Services coordinator at [email protected] and request the code.
1.b. The next section is titled Sessions (see below), this is where you will:
Select the Welcome Reception for Thursday evening (optional).
Select your courses for each breakout session. Please note, the program will not allow you to skip this step so be sure to select one for each breakout session.
Select a post-conference session (optional).
Please note there is no coupon code needed for any of these selections.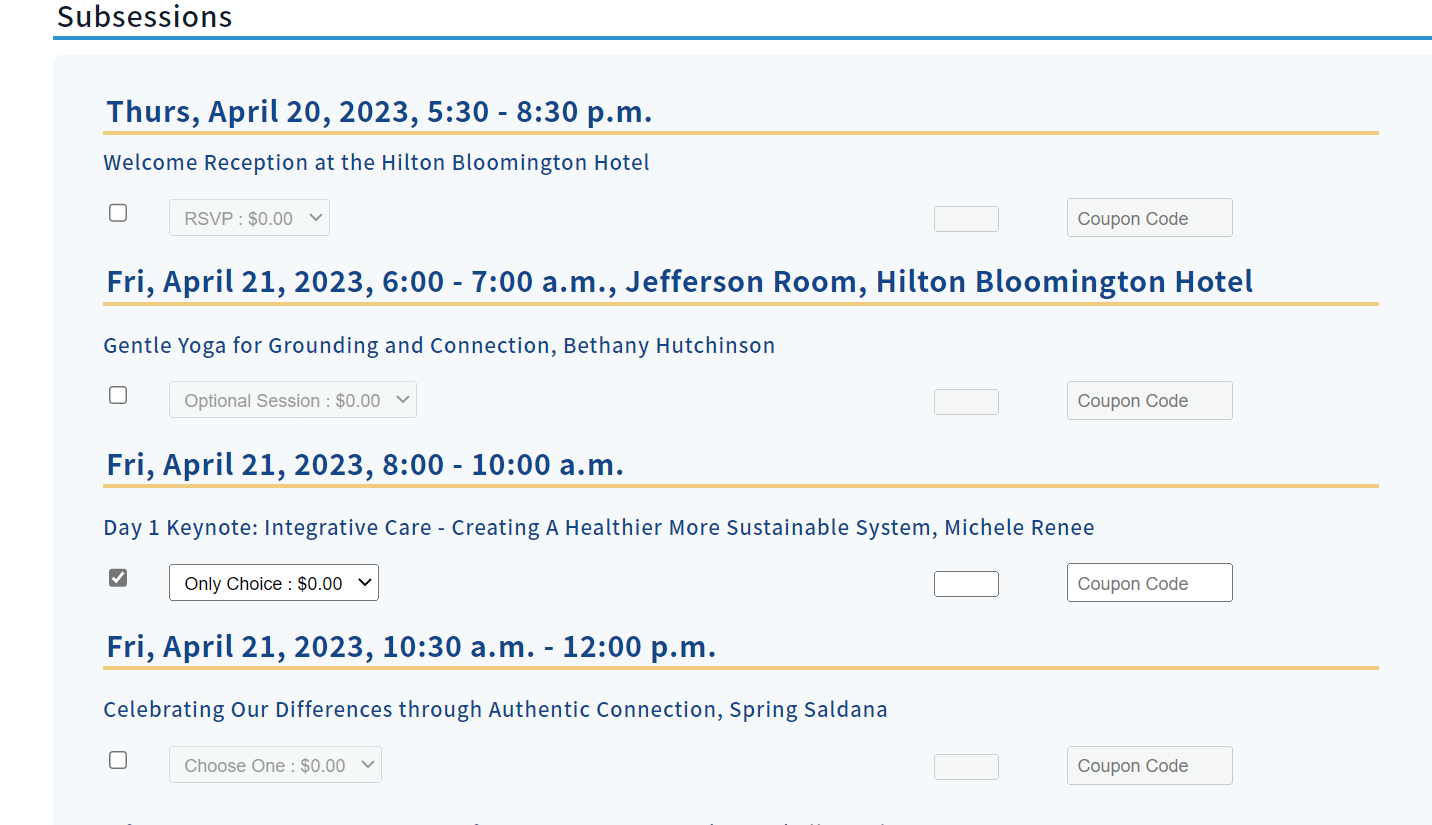 After making all of your selections you may take some time to read through the instructor bios or just go to the bottom and click on the blue Add to Cart Button.
2. You will be redirected to the Shopping Cart (see below). If you did not create your profile before starting the registration process, you will notice that the Attendee List section is blank and the Cart reads $0.00. You will need to go to the bottom of the page and click on the blue button labeled Add Attendee. Please complete the section and click on the blue Submit button at the bottom of the page. You will be redirected back to the cart and your name will appear under the Attendee section and you Shopping Cart will show session selections with pricing.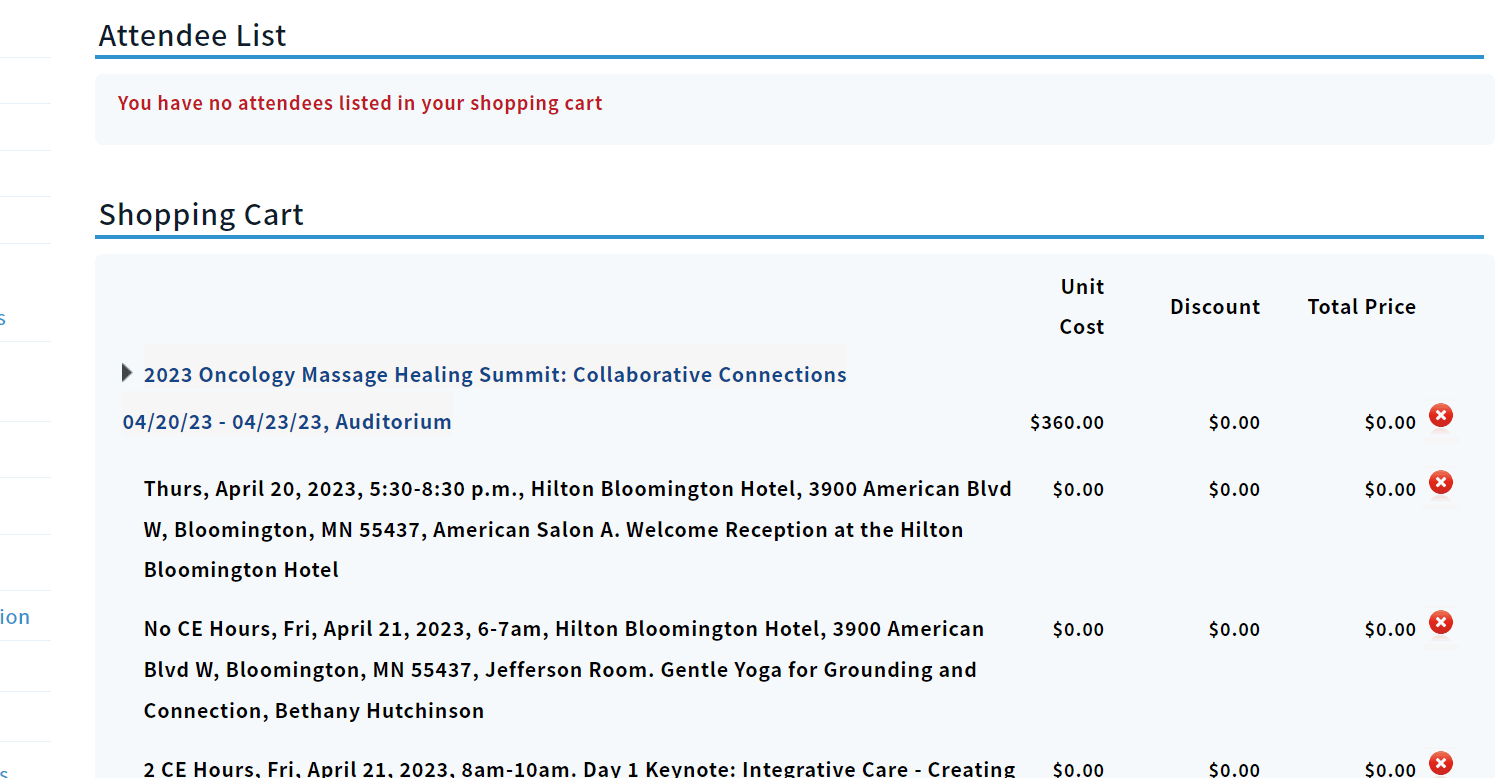 You are now ready to Check Out.