Spring Saldana, BCTMB, CNMT, CMLDT, Reiki Master, LMT (Florida)
Summit Educator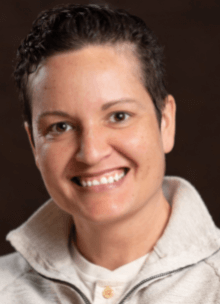 Spring Saldana is a 2004 graduate of Southeastern School of Neuromuscular Massage Therapy in Jacksonville, FL. Spring has been involved in massage therapy program administration and education for most of her massage career. She is a Certified Neuromuscular Therapist, Certified Manual Lymphatic Drainage Therapist, Reiki Master, and a Licensed Massage Therapist (Florida). In addition to leading and instructing at Northwestern Health Sciences University, Spring travels around the country leading continuing education seminars for health care professionals on trigger point therapy, and diversity and inclusion. Massage therapy education has been an important part of her life, and she believes in its ability to spark a person's innate healing.
"A healer does not heal you. A healer is someone who holds space for you while you awaken your inner healer, so that you may heal yourself."
– Maryam Hasnaa
Course:
Friday, 4/21/23 10:30 AM – 12:00 PM
Breakout: Celebrating Our Differences through Authentic Connection
The goals for this session are to recognize that people with diverse backgrounds, beliefs, attitudes, and experiences can bring new ideas and perceptions to both our personal and professional lives, to understand cultural competency and its role in providing services that meet various social and cultural needs. to explore what it means to create a sense of belonging for self and others. to understand the terms and language utilized within various diverse communities. and to identify our own personal biases or limited perspectives regarding those that are different from ourselves.